Bryan Lee O'Malley, also known as Radiomaru, is the creator of the Scott Pilgrim series. He is originally from Ontario but now lives in Los Angeles, LA. He was married to fellow comic book creator Hope Larson from 2004 to 2014.
O'Malley's first solo graphic novel was Lost at Sea, published in 2003 by Oni Press. His next books were the Scott Pilgrim series, which he worked on from 2004 to 2010. His following project was a series so far only titled Seconds, which was released in 2014. He is currently writing the comic book series Snotgirl, which is illustrated by Leslie Hung and published by Image Comics.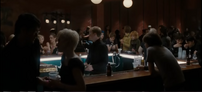 O'Malley also helped Edgar Wright work on the Scott Pilgrim vs. the World film. Both he and Larson make an uncredited cameo in the film as Lee's Palace Bar patrons. Bryan also designed some of the artwork in the movie like the sketch of Ramona's hair, the clipboard drawings of Crash and the Boys and Ken and Kyle Katayanagi and Ramona's cat Gideon on Scott's mug at the beginning.
External links
[
]