Spoiler warning!
This article contains plot/ending details.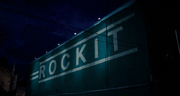 Club Rockit (or The Rockit) was a real punk venue in Toronto, on Church Street in the Weston neighborhood. Bryan Lee O'Malley has called it "cramped, ugly and terrible" [1] and it closed down sometime in 2005.
The Rockit is the site of the climax of Scott Pilgrim's Precious Little Life, where Crash and the Boys and Sex Bob-omb play a gig and Matthew Patel battles Scott.
The Rockit also appears in Scott Pilgrim vs. the World: The Game, in World 1, under the name The Rocket for presumably legal reasons. Just like in the book, Matthew Patel is fought here.
The Rockit also appears in Scott Pilgrim Vs. the World, where Scott also fights Matthew Patel. The label when Scott entered Club Rockit said that the place was a toilet.