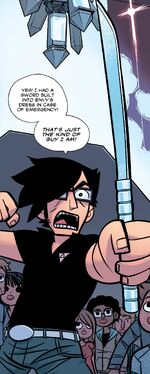 Gideon's sword is a bladed weapon used by Gideon Graves which was used in the final fight in Scott Pilgrim's Finest Hour. Gideon hides the sword in Envy Adams' dress in case of emergencies (that's just the kind of guy he is), and takes it out of Envy's dress (revealing a sexier dress) after Scott Pilgrim gains the Power of Understanding. The sword looks slightly similar to the Power of Love, except the blade is considerably shorter in length and doesn't have a heart ornament on its pommel. The sword is quickly knocked out of Gideon's hand by Ramona Flowers, leaving him completely vulnerable.
In vs. the WorldEdit
In Scott Pilgrim vs. the World (film), Gideon and Envy never hook up, and therefore Gideon never gets to make her dress/sword backup. Instead, Gideon uses a sword concealed in his cane in his fights against Scott. After Scott uses the Power Of Love to defeat Gideon's hipster guards, Gideon uses the sword in a mid-air clash with Scott and manages to break the Power of Love. Gideon then temporarily loses the sword when Knives crashes into him, forcing Gideon to fight Scott hand-to-hand whilst Knives fights Ramona. Scott knocks Gideon out and tries to quell Knives and Ramona's fight, but ends up being stabbed in the back by Gideon with the sword. On Scott's second life Gideon uses the sword as he did before in the mid-air clash, but fails against the superior Power of Self-Respect and falls to ground, losing the sword in the process. He has it replaced with the even more powerful Pixel Katana.
In vs. the World, Gideon's first sword has a skull ornament on its pommel.
Community content is available under
CC-BY-SA
unless otherwise noted.