We're Getting Mutants in the MCU - The Loop
Play Sound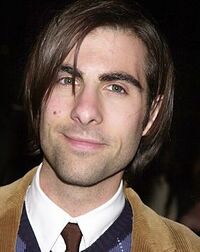 Jason Francesco Schwartzman (born June 26, 1980) is an American actor and musician. He is perhaps best known for his roles in the Hollywood films Rushmore, Spun, I Heart Huckabees, Shopgirl, Marie Antoinette, The Darjeeling Limited, Funny People, and Scott Pilgrim vs. the World. He currently releases music through solo-project Coconut Records; formerly, he was the drummer of the rock band Phantom Planet. Schwartzman was also the star of the HBO series Bored to Death, where he played a writer who moonlighted as an unlicensed detective, advertising himself on Craigslist.
Jason Schwartzman plays Gideon Graves in the Scott Pilgrim vs. the World movie and Simon Lee in Scott Pilgrim vs. The Animation. He has starred in films like Fantastic Mr. Fox and Funny People. Bryan Lee O'Malley has said a few times the inspiration for Gideon's character came partly from Jason as an actor.
Interesting Connection
[
]
Jason Schwartzman plays Gideon in the Scott Pilgrim movie, the villain known for being a well-to-do and established hipster. Jason Schwartzman's breakout role was in "Slackers" as Ethan Dulles, a prototype to the hipster culture.
Schwartzman was born in Los Angeles, California, the son of actress Talia Shire (née Coppola) and the late producer Jack Schwartzman. Many of his family members are involved in film. His maternal grandparents were composer Carmine Coppola and Italia Coppola (née Pennino). His uncle is director Francis Ford Coppola, and his cousins are actor Nicolas Cage, director Sofia Coppola, Roman Coppola, and Christopher Coppola. His brother is actor/musician Robert Schwartzman (vocalist for the band Rooney), and his paternal half-brother is cinematographer John Schwartzman. Jason Schwartzman is of Ashkenazi Jewish descent on his father's side and Italian (Catholic) ancestry on his mother's side, and was raised without religion.[1]
Career
[
]
Acting
[
]
Schwartzman's acting career began when he was 17 years old when he starred in Wes Anderson's Rushmore in 1998. Prior to Rushmore, Schwartzman had no acting experience.
He is also known for his roles in the films The Darjeeling Limited, Shopgirl with Steve Martin, I ♥ Huckabees, Spun, Funny People and Slackers. In 2006, he starred in Marie Antoinette under the direction of his cousin, Sofia Coppola, in which he appeared as King Louis XVI with Kirsten Dunst in the title role.
He made a cameo appearance in the Judd Apatow-produced musician biopic spoof Walk Hard as Ringo Starr. In 2009, he appeared in Apatow's third directorial feature entitled Funny People, in which he played Mark, a C-list television star.
Schwartzman starred in HBO's TV show Bored to Death in which he played a writer who moonlights as a private detective, and puts himself up for hire on Craigslist. In 2010, he performed as Gideon Graves in the film, Scott Pilgrim vs. The World, the movie adaptation of the comics by Bryan Lee O'Malley.
In 2011, Schwartzman made a cameo appearance as Vincent Van Gogh in the Beastie Boys short film Fight For Your Right Revisited.