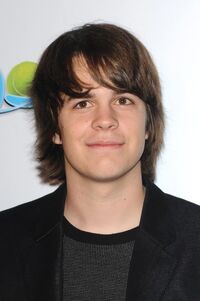 Johnny Simmons (born November 28, 1986) is an American actor who plays Neil Nordegraf (Young Neil) in the Scott Pilgrim vs. the World movie. He has starred in films such as Jennifer's Body, Hotel for Dogs, and Evan Almighty. He learned how to play bass for his role in the film, playing during the band's performance at the Chaos Theater and sharing bass playing duties with Michael Cera as Scott Pilgrim in the music video version of "Summertime".
Simmons was born in Montgomery, Alabama and was raised in Dallas, Texas, where he attended Nathan Adams Elementary and T. C. Marsh Middle School. He is a 2005 graduate of W. T. White High School. Simmons landed his first role in the feature film Evan Almighty, in which he plays Dylan Baxter, opposite Steve Carell and Lauren Graham.In September 24,2013,he was in the music video for Drake's single "Hold On, We're Going Home".
Community content is available under
CC-BY-SA
unless otherwise noted.