Jurassic World: Dominion Dominates Fandom Wikis - The Loop
Play Sound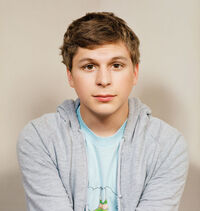 Michael Cera is a Canadian actor who plays Scott Pilgrim and NegaScott in the Scott Pilgrim vs. the World movie. He has starred in Juno, Superbad, Year One, and Youth in Revolt. He was also in the television show Arrested Development.
Background
[
]
Cera was born in Brampton, Ontario, Canada. He is the son of Linda, a native of Quebec, and Luigi Cera, a technician who is originally from Sicily. His parents both worked for Xerox. Cera has an older sister, Jordan, and a younger sister, Molly. He became interested in acting after viewing Ghostbusters repeatedly when sick with the chicken pox at the age of three. He memorized all the dialogue and idolized Bill Murray. He enrolled in The Second City Toronto and took improvisation classes.
He attended Conestoga Public School, Robert H. Lagerquist Senior Public School and Heart Lake Secondary School until grade nine, but then completed school online through grade 12.
Acting
[
]
His first role was an unpaid appearance in a Tim Hortons summer camp commercial. That eventually led to a Pillsbury commercial in which he poked the Pillsbury Doughboy, his first role with lines.
Rise
[
]
"Arrested Development never felt safe. Even the first season, we did thirteen episodes, and we thought we'd never do a back nine. So I never thought in a million years we'd get to make three seasons. I was happy we got that far. I thought it was really good, and I'm really proud of it. I don't think we made a bad episode." Michael Cera, Esquire (2009)Cera's career began when he was cast as Larrabe Hicks in the Canadian television series I Was a Sixth Grade Alien in 1999. In 2002, Cera played the young Chuck Barris in Confessions of a Dangerous Mind and he also provided the voice for Brother Bear in The Berenstain Bears animated series. Also in 2002, he was cast in The Grubbs, a new Fox TV series. It received a poor critical response, including an E! Online review that called it "the worst sitcom ever produced". He also voiced Josh Spitz in the cartoon Braceface. He played George Michael Bluth in the award-winning television series Arrested Development for three seasons before it was canceled. In 2005, he starred as Harold in the award winning short film Darling Darling, for which he was awarded Best Actor at the San Gio Festival in Verona, Italy. In 2006, he created and starred in a parody of Impossible is Nothing, a video résumé created by Aleksey Vayner. He also guest-starred in an episode of teen noir drama Veronica Mars – in the episode "The Rapes of Graff", which also featured Arrested Development co-star Alia Shawkat – and also in the Adult Swim series Tim and Eric Awesome Show, Great Job!.
Cera, along with best friend Clark Duke, wrote and starred in a series of short videos released on their website. The idea came from Duke, who was enrolled at Loyola Marymount University and did it for his film school studies. In 2007, they signed a deal with CBS Television to write, produce, direct, and act in a short-form comedy series entitled Clark and Michael. The show featured guest stars such as David Cross, Andy Richter and Patton Oswalt, and was distributed via CBS's new internet channel, CBS Innertube. Duke and Cera are both members of the band The Long Goodbye.
Cera also appeared in a staged comedy video that shows him being fired from the lead role of the film Knocked Up after belittling and arguing with the director, in a scene that mocks the David O. Russell blow up on the set of I Heart Huckabees.