Jurassic World: Dominion Dominates Fandom Wikis - The Loop
Play Sound
Spoiler warning!
This article contains plot/ending details.

You punched the highlights out of her hair!

— Young Neil
"Young" Neil Nordegraf is referred to for the first time in Volume 6, as just Neil, when Scott introduces him to Stacey Pilgrim (they did not know each other before, despite the fact that both of them aided Scott in his battle with Matthew Patel and they were also both at Lisa Miller's farewell party). It is the greatest day of his life. It is also implied that Neil negatively acquainted the moniker "young". It also can be viewed as the end of his dickish attitude, referenced in Volume 5, "I'm young, I'll grow out of it" when called an asshole by Ramona
He is Stephen Stills' twenty-year-old roommate and briefly dates Knives Chau (from volume 3 to volume 4). He has a sister, Steph Nordegraf, who played bongos and the viola in Scott's old band, Kid Chameleon.
Personality and traits
[
]
He is very quiet and is most often seen just observing the dialogue of his friends and the events around him. While generally easy-going, during Sex Bob-omb's extended recording in Scott Pilgrim vs. the Universe he becomes angry at how isolated he has become from his friends and later becomes bitter and sullen, taking up smoking. Neil proves to be quite sensitive despite his guise of an apathetic boy; After breaking up with Knives and isolating himself from his friends, Neil feels abandoned. As a result, his character becomes more rude, insulting Stephen by calling him "Captain Homo" and subsequently calling him an asshole. His friends with him don't seem to care about Neil's problems, as they don't seem to listen to him when he finally gets it on with them. Neil because of his grudge, undergoes a degradation of immaturity, but despite this, he finally manages to mature when Scott calls him by his real name. At the end of the series, Neil still seems to have some traits of his old cynical character, like when he criticizes Scott and Kim's song at the end of Scott Pilgrim's Finest Hour. However, Neil seems to have reconnected most of the friendships he had broken over the course of the series by becoming an adult.
Relationships
[
]
Knives Chau
[
]
Knives admitted to Neil she was really only dating him because he looked like Scott. Neil seems more interested in her than she is, as he expressed the desire to make out with her at one point while Knives was indifferent. Though Knives appeared to appreciate his support when she was hurt by Envy Adams and said: "I'll be fine, Neil's here." It is implied by Knives that they broke up twice. Neil also seems to like Chinese girls since when he first heard that Scott was dating a Chinese girl, he commented "That's wicked!" and is seen in the company of another Asian girl after his break-up with Knives. After the end of Scott's relationship with Ramona, Neil attends the same party as Scott and when Scott learns Envy Adams is there, Neil suggests that Scott should "preemptively be a dick to her". This is, however, a brutal failure, and Neil abashedly witnesses the result.
Stephen Stills
[
]
Stephen's and Neil's relationship seems to work out initially, but Stephen Stills gets angry at Young Neil when he starts dating Knives Chau (even suggesting the rest of them take him out back and beat him up) and it is unknown whether they stayed roommates following the ending of the series.
Sex Bob-Omb's #1 Fan
[
]
It is shown that he takes great pride in being Sex Bob-omb's number 1 fan in book one.
Kim said Knives was their number 1 fan. Neil quickly stands up, whimpers, tears up and runs off crying. To which Kim yells "Other than you, Neil!"
In the movie, Neil says that he met everyone in Sex Bob-Omb in high school, but according to Bryan Lee O'Malley, his sister was Stills' former roommate and moved to another town to pursue continued education. It was then that Neil became Steven's new roommate. [1]
Apparel
[
]
Young Neil's clothing style is similar to Scott's, as he is often wearing T-shirts with references on them such as the names of different bands. He also seems to share Scott's interest in games; He regularly plays a Nintendo DS and in Volume 6 Scott has just bought a handheld game console from him (which highly resembles a PSP Go ) which Scott seems very impressed with. He also plays the arcade game "Time Critics" at Chaos Theatre.
The Name
[
]
Neil's moniker "Young Neil" is naturally a play on of the name of the renowned Canadian musician and singer "Neil Young." One group Neil was a part of in his beginning was Buffalo Springfield. One of the members of Buffalo Springfield was Stephen Stills for whom the character of the same name exists in the series. As Buffalo Springfield began to decline, Neil Young took it upon himself to go solo and skyrocketed immediately.
One of the few people he took with him was Stephen Stills who became his backup for a time, and the two even launched an album together, "Long May You Run", as "The Stills-Young Band". They are also still playing together from time to time in the band Crosby, Stills, Nash & Young (sometimes referred to as just "Crosby, Stills & Nash" since Neil Young sometimes collaborates with them when they play music together in the group, and sometimes he doesn't). Neil Young has been a huge influence on a variety of artists to this day including Nirvana's Kurt Cobain.
Reversing the name, we get "Young Neil" who seems to have the opposite influence throughout the series, he's the original groupie for Sex Bob-omb, meek, carries no musical influence or prowess as far as we can tell, and Stephen Stills is viewed as "the talent" rather than him. He is Sex Bob-omb's biggest fan until Knives comes along.
Portrayal in Adaptions
[
]
In vs. the World

[

]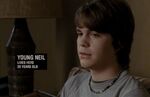 Young Neil is played by Johnny Simmons(Jaime Alberto Carillo in the Latin Mexican dubbing) , whose previous works include Jennifer's Body, Hotel for Dogs, and Evan Almighty.
In the Movie, Young Neil is a kind of roadie/fanboy to Sex Bob-omb, going to rehearsals and hanging out with the band despite not actually being in it. Neil strives to be just like Scott as he often repeats what Scott says, dresses in similar ways to Scott, knows how to play bass exactly like Scott, and ends up dating Knives just like Scott did. When Gideon wants to sponsor Sex Bob-omb, Scott refuses and leaves the band, and Neil takes his position and his bass (but ends up just getting a new one that is black and similar to the old one), officially becoming Sex Bob-Omb's new bass player. In Scott's second life he apologizes to all the members of the band and Scott tells Young Neil that the band sounds better with him on bass and that from this day on he will be known as ... "Neil". Similar to Kim and Stephen Stills, Young Neil has a somewhat weak friendship with Scott before the scene in the Chaos Theatre.

In the Game
[
]

Young Neil appears in the Game as a background character and the shop owner in Lee's Place Stand in World 3.
Trivia
[
]
In Scott Pilgrim Gets it Together, Neil can be seen wearing a shirt with the Deathly Hallows symbol from the Harry Potter series.[2]
In the movie, Neil's last name is never mentioned. It is only seen when Knives Chau texts him asking to meet up.
As revealed in the color edition of Scott Pilgrim's Precious Little Life, Neil was supposed to be 9 years old at first – in other words, truly "the young one". But Bryan Lee O'Malley scrapped this idea, and the concept of "one of the characters being a little kid" was instead applied to Trasha, in a way he found more interesting.
Bryan Lee O'Malley has explained that Neil, appearance-wise, is based on his friend Jacob from when he was 19 years old.
According to early notes, Neil is about an inch taller than Scott (same height as Stephen Stills).
Neil is reading the webcomic Achewood on his computer (in Volume 1) after the gang had met Knives Chau for the first time.[3]
Originally, Neil was supposed to get a new "quirky, cute, papiermâché-dolphin-making girlfriend" who was going to appear in volume 5, but she was scrapped from the story later.[4] She had short hair, wore colored contacts, and tried putting makeup on Neil, but it was "too terrifying". Sketches show that Neil supposedly had longer, side-swept bangs at that point. On Bryan Lee O'Malley's Tumblr he referred to the girlfriend as "Eleanor", but in the notes appearing in the color edition of Volume 5, she is called Lainey. Whether Lainey is a nickname or Eleanor was just another name he considered is unknown.
His birthday is in February.[1]
Unlike what many believe, at the end of the film when Gideon dies what Neil eats is not a coin, it is the gum that Gideon had swallowed.
References
[
]