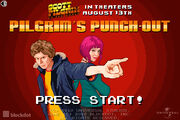 Pilgrim's Punch-Out!! is an iPod Touch/iPhone/iPad app created by NBC Universal promoting the
movie
. The gameplay involving brawling
The League of Ramona's Evil Exes
, Super Punch-Out!! style. The app also features two trailers for the
movie
, a movie picture gallery and a look inside video (must be connected to Wi-Fi watch).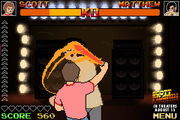 After some fights, you'll be instructed to a cutscene resembling a scene from the film from the movie (i.e. the first cutscene resembling the scene with Scott and Ramona on the bus). There are three cutscenes in the app. The
Power of Love
sword can be used as a super attack. If you can't get up after being knocked down by an evil ex or get TKO'd, it's game over. If you can win against the evil exes, you get unlockable gallery content. When you first play the app, you need to complete the game to unlock the Look Inside video.
thumb|300px|left|The second trailer you can view in the app. (Don't have to be connected to Wi-Fi to watch)
The app also
features Comic-Con information and includes a Facebook feature and the feature to view the high score table from the main menu. The font used for the gameplay is Joystik.
Much like Scott Pilgrim vs. the World: The Game being delisted from Xbox Live Arcade and PlayStation Network, Pilgrim's Punch-Out!! has also been delisted from the App Store.
Community content is available under
CC-BY-SA
unless otherwise noted.