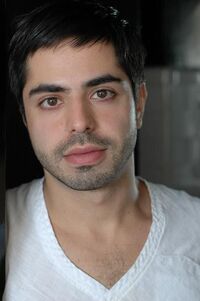 Satya Sorab Bhabha (born 13 December 1983) is an American actor most known for his role as Matthew Patel in the 2010 film, Scott Pilgrim vs. the World.
Bhabha was born in London, England. His father, professor Homi K. Bhabha, is a Parsi of Indian heritage. His mother, lecturer Jacqueline Bhabha (née Strimpel), was born in India to German Jewish parents, and grew up in Italy. He is a graduate of Yale University, where he was a member of Skull and Bones, and was a recipient of the Louis Sudler Prize for Excellence in the Arts.
Bhabha began acting in 2003, appearing in the film Swordswallowers and Thin Men. In 2010, he was cast in the film version of the graphic novel Scott Pilgrim, entitled Scott Pilgrim vs. the World. Bhabha played the lead role in the Deepa Mehta film, Midnight's Children based on Salman Rushdie's novel Midnight's Children.