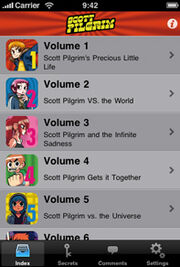 Scott Pilgrim's Precious Little App (called Scott Pilgrim) is an app that is an App Store downloadable for Android, iPod Touch and iPhone.
Description:
Experience the world of Scott Pilgrim in a whole new way! The original graphic novel that gave life to the major motion picture by Edgar Wright, starring Michael Cera and Mary Elizabeth Winstead, is now available in selected territories for your iPhone, Android, iPod Touch or iPad!
Scott Pilgrim the app translates
Bryan Lee O'Malley
's comic book to mobiles. Join Scott as he defeats
Ramona Flowers
' seven ex-boyfriends to win her heart, in a struggle that will make your mobile phone buzz with excitement. Tag along and discover dozens of hidden secrets of Scott's universe. Do you have what it takes?
The app allows you to view the first chapter of
Scott Pilgrim's Precious Little Life
(Volume 1) for free. To continue reading, you have to purchase the rest of the book and the rest of the comics. You can unlock secrets throughout reading the comics, write comments and change your reading settings. The app also has a iPod Touch/iPhone Library option so users can listen to the music on their iPod Touch/iPhone. You can also the buy the books (Ramona shipping not included), watch the trailer for the movie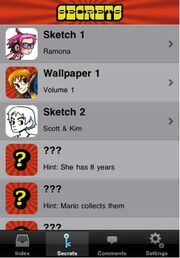 (must be connected to Wi-Fi to watch), send them an awesome e-mail (must be connected to Wi-Fi) and visit the app's official website (must be connected to Wi-Fi to open). To view the app, you must have a iPod Touch/iPhone iOS version of 3.1 or higher. The app is rated 12+ for Infrequent/Mild Sexual Content or Nudity, Infrequent/Mild Mature/Suggestive Themes, Infrequent/Mild Cartoon or Fantasy Violence, Infrequent/Mild Alcohol, Tobacco, Drug Use or References to these and Infrequent/Mild Profanity or Crude Humour.
The app uses the following sound files from Freesound: guitarsolo1 by NoiseCollector, PhoneRinging by acclivity, SNES_startup by spaht, ping by StaneStane and Bingbong by Benboncan.
The app was developed by Harper Collins Publishers Limited/HarperCollins and Robot Media. You can get the app for FREE.
Community content is available under
CC-BY-SA
unless otherwise noted.