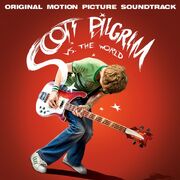 The original Scott Pilgrim Motion Picture Soundtrack features four new songs by Beck under the guise of Sex Bob-omb and two versions of a new Beck track. Also on the soundtrack are tracks by Broken Social Scene, Beachwood Sparks and Frank Black - alongside classic Rock anthems from rock greats the Rolling Stones and T.Rex plus a stellar inclusion from Britpop kings The Bluetones.
The soundtrack garnered critical acclaim upon release. It also notably omits some tracks that were in the movie, such as Plumtree's "Go", which plays during the montage of Scott and Knives' date.
Track Listings
[
]
The bonus tracks, found on the Soundtrack's deluxe edition, are Beck's covers of Garbage Truck, Threshold, and Summertime. There is also an 8-Bit version of Threshold created by Brian LeBarton.
*Song created by Beck, performed by Michael Cera, Allison Pill, and Mark Webber.
**Song created and performed by Broken Social Scene.
***Sung by Brie Larson in the movie.
External link
[
]