Jurassic World: Dominion Dominates Fandom Wikis - The Loop
Play Sound
Scott Pilgrim vs. the World: The Game is a side-scrolling beat 'em up game based on the Scott Pilgrim series of graphic novels by Bryan Lee O'Malley, coinciding with the Scott Pilgrim vs. the World movie. It was published by Ubisoft and developed by Ubisoft Montreal with Ubisoft Chengdu.
Design and Style
[
]
The game is in the form of a 2D arcade side-scrolling beat-'em-up where up to 4 players, offline or online, are able to team up to fight Ramona's evil exes. The art and design for the characters and levels has been developed by Paul Robertson, the animator who gave us Pirate Baby's Cabana Street Fight 2006 and Kings of Power 4 Billion%. Bryan Lee O'Malley met with Paul Robertson and the pair discussed a variety of issues before any attempts were made to do anything. The game has been integrated with the style of the comic as well as paying tribute to a variety of other video games including Double Dragon, Mega Man, Mario, and Guitar Hero, and is said to be highly influenced by River City Ransom.
Playable Characters
[
]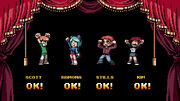 The game initially starts with four playable characters to choose from, including Scott Pilgrim, Kim Pine, Stephen Stills, and Ramona Flowers. Nega Scott would be included as an unlockable character. Knives Chau and Mr. Chau are included as characters players can summon. Knives and Wallace Wells would also appear as playable DLC characters. (In the Complete Edition, Knives and Wallace are playable from the start – save for the Nintendo Switch version, where the player has to log in with a Ubisoft account, before Knives and Wallace becomes playable.)
Gameplay
[
]
Loosely following the plot of the graphic novels, up to four players can play as Scott, Ramona, Kim or Stills (or also unlockable character Nega Scott and downloadable characters Knives and Wallace), who must battle through several levels in order to defeat Ramona's seven evil exes.
Characters have their own individual move sets, which can be expanded upon by gaining enough experience, and are also able to use weapons and summon Knives to assist them (Each character has a different effect). During co-operative play, certain actions can be performed such as simultaneously taunting to defeat enemies or reviving fallen comrades before they lose a life. Defeating enemies earns coins (stylized Canadian currency) which can be spent on health items or attribute boosts. Players can also enter Subspace areas which act as bonus areas where extra coins can be earned. There are cheat codes that, when entered on the title screen, will unlock different features, including extra game modes Survival Horror and Boss Rush.
Worlds
[
]
There are 7 levels in the game called Worlds, each one contains at least 2 sections and a boss battle at the end. The player(s) must reach the end and defeat the boss in order to complete the world.
Release and Downloadable Content
[
]
The game was released on the PlayStation 3 in August 10th-11th, 2010 in North America and Europe respectively, and was then released on Xbox 360 in August 25th, 2010. The Knives Chau Add-On Pack, adding Knives as a playable character, two game modes (Dodgeball and Battle Royale), and a patch that added the option to drop in or drop out of gameplay was released on November 9th, 2010, the same day as the movie's DVD and Blu-ray release. A second DLC pack, which implements online multiplayer and adds Wallace Wells as a playable character, was released on PS3 on March 12th, 2013, and on the Xbox 360 the following day.
Delisted
[
]
On December 30th, 2014, the game was delisted from the Xbox Live and PlayStation Store. The reason for this is likely due to the license expiring. Until late-2016, the game and its DLC could still be acquired by purchasing download codes from Best Buy's website, exclusively for the PS3 version.
Complete Edition
[
]
On May 20th, 2020, during an academy-sponsored viewing of the Scott Pilgrim movie, O'Malley jokingly tweeted "bring back the Scott Pilgrim game", which had Ubisoft reply with a thinking emoji, vaguely hinting at a potential re-release.
On September 10th, 2020, during the Ubisoft Forward live stream event, Ubisoft announced a Complete Edition of the game for PlayStation 4, Xbox One, Nintendo Switch, Google Stadia, Amazon Luna and Microsoft Windows computers through Ubisoft Connect and the Epic Games Store, that will include both the Knives Chau and Wallace Wells add-on packs. The re-release was developed by Engine Software and was initially stated for a Holiday 2020 release, but was released worldwide on January 14th, 2021.
On January 8th, Limited Run Games announced a physical version of the re-release, with three editions:
a standard edition with just the game.
a Classic Edition, that includes the game, a CD soundtrack, folded overworld map and a sticker sheet inside a deluxe clamshell retro box.
a KO! Edition, that includes everything in the Classic Edition, plus a cassette version of the soundtrack, a guide book, a seven card Evil-Exes trading card set, a sticker set, a pair of guitar picks, a pair of drumsticks with frames of Scott and Kim rocking out and an Scott enamel pin in a Roadie Collector's Case, featuring spotlights shining down at a pop-up of Scott, Kim, Stills and Ramona and music playing from Anamanaguchi.
All editions includes commemorative Clash at Demonhead concert tickets.
Pre-orders became available for the PS4 and Switch version for a limited time on January 15th. As Microsoft's business model conflicts with that of Limited Run Games, a physical release for Xbox One was never made available..
Trivia
[
]
Each character has their own ending. However, it should be noted that finishing the game with Ramona reveals the true ending like in both the book and the movie.

Scott's sprite from the game ALSO appears in the movie, beating up the "The End" logo.

Much like the books and the movie, the game contains numerous references to video games.
The sprites and animations were done by Paul Robertson and show many elements of his signature style.
In 2009, while the game was in development, O'Malley was in talks with Ubisoft of having a Montreal DLC for the game, that included Envy, Lynette and Todd as playable characters, but the idea was scrapped due to time constraints and budget cuts.[1]

There was also going to be a section of the game where the players would chase Roxy through a beach with nods to Super Spike V'Ball, which would lead to encountering her in the train at the beginning of World 4. While the chase section was cut from the full release, the beach would eventually make it as part of the Dodgeball mode.[2]

In the PS3/360 versions of the game, prior to the Wallace DLC, the fight with Todd Ingram had vegetables that would fly at you from off screen during his major attack, but since the release of the Wallace DLC and in the Complete Edition, they are missing.
The Complete Edition re-release will be the first time this game is available on a Nintendo console AND on PC.
Related pages
[
]
In-Game Items
[
]
List of items in their stores, possible spoilers (GameFAQ).
Gallery
[
]
Backgrounds
[
]
Character art
[
]
Screenshots
[
]
Sprites
[
]
Background Sprites
[
]
Various
[
]
World 1
[
]
World 2
[
]
World 3
[
]
World 4
[
]
World 5
[
]
World 6
[
]
World 7
[
]
Videos
[
]