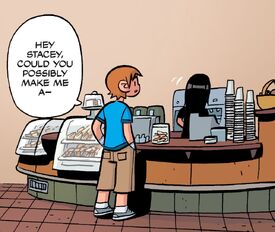 Second Cup is a real chain of Canadian coffeeshops. Scott occasionally hangs out in the one where Julie Powers and his sister, Stacey Pilgrim, work. In Volume 4, Knives Chau gets a job at a different Second Cup location. When Scott sees Knives working, for the first time ever he realizes that not all front doors into Second Cup lead to the same Second Cup interior.
It's a shop in the game under the name Delicious Cup and is fittingly run by Stacey.
Bryan Lee O'Malley's sister Stacey (the inspiration for Stacey Pilgrim) did, in fact, work at a Second Cup. The Second Cup badge that Anna Kendrick (the actress that plays Stacey in the film) wears in her various scenes is the one Bryan's sister wore, according to the DVD's Trivia Track.