Jurassic World: Dominion Dominates Fandom Wikis - The Loop
Play Sound
Spoiler warning!
This article contains plot/ending details.
The Clash at Demonhead is a band from Montreal, consisting of singer Envy Adams, bassist Todd Ingram, and drummer Lynette Guycott. Envy, their leader, is Scott's ex-girlfriend, is currently dating Ramona's ex-boyfriend Todd.
The band first appears at the end of Book 2 and are the main antagonists for Book 3.
Interesting information
[
]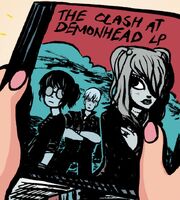 It should be noted that the members play drums (Lynette), bass (Todd), and only occasionally keyboard (Envy). There is no guitarist in the group which is extremely rare for a group with a punk/rock image.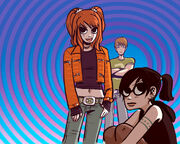 Also, Lynette has a bionic arm and the ability to teleport which is never delved into.
Like most bands in the series, The Clash at Demonhead is named after a classic video game. In this case, Clash at Demonhead was a 1990 NES platformer. The name is also inspired by the classic punk rock band The Clash, which is the reason why "The" was added to the band's name.

The break-up
[
]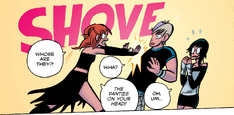 The Clash at Demonhead suffers the most extreme breakup in band history at the end of volume 3 when Envy catches Todd, having just had sex with Lynette, walking out of the bathroom with her panties on his head and zipping up his jeans. In a fit of rage, Envy smashes off Lynette's cybernetic arm as she tries to escape, making their drummer useless. She then knees Todd in the balls after he attempts to patch things up and apologize. Todd uses his vegan powers to toss Envy across the room then turns his attention to Scott. Scott is initially overpowered, but is defended by Crash and the Boys who have learned to manipulate sound through hard work and will power alone, and also seem to have had a hostile take over and changed their name to "The Boys!! and Crash!".
Scott is still overpowered with this assistance, but the vegan police interrupt the fight and strip Todd of his powers for multiple vegan offenses including eating gelato and chicken Parmesan. Scott headbutts the now powerless Todd into a pile of coins. Envy is initially disheartened by all this since she loved Todd, but concludes it was for the best in the end.
Portrayal in adaptions
[
]
In vs. the World

[

]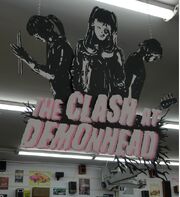 In the movie, all the music for The Clash at Demonhead is composed by Metric. Brie Larson (the actress playing Envy) sings "Black Sheep" while Metric provides the instrumental backup. Envy herself was inspired by the singer of Metric, Emily Haines. The band itself ended after Scott defeated Todd with the help of the Vegan Police.
In the Game
[
]
All three appear in World 3. Lynette and Envy fight as Sub-Bosses while Todd is the main Boss.