We're Getting Mutants in the MCU - The Loop
Play Sound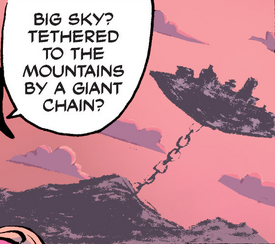 The University of Carolina in the Sky is the university Ramona Flowers went to after high school and where she met and dated her fourth evil ex, Roxie Richter. It's described as "Tethered to the mountains by a giant chain".
This could be a reference to the University of North Carolina at Asheville, in Asheville, NC, whose campus was once in Seely's Castle, nicknamed the "Castle in the Sky" after Asheville, the "Land of the Sky." In terms of video game reference, it could be based on the Little/Miracle Planet, an appearing/disappearing world chained to another one in Sonic CD; It could also be based on Mt. Woe in Chrono Trigger, a floating mass of rock similarly grounded to a mountain by a gigantic chain. Bryan Lee O'Malley's wife, Hope Larson, grew up in Asheville, though she did not attend UNCA. The two of them lived in Asheville for a few years during the production of the Scott Pilgrim series. The building is also somewhat reminiscent of Dark Heaven Castle from the PS2 game Dark Cloud, though the latter simply floats, rather than being chained to anything.
Coincidentally, Mary Elizabeth Winstead, who plays Ramona Flowers in the movie, hails from Rocky Mount, North Carolina.