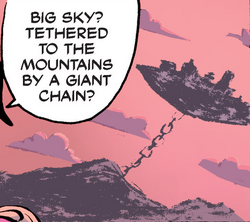 The University of Carolina in the Sky is the university
Ramona Flowers
went to after high school and where she met and dated her 5th evil ex,
Roxie Richter
.
It's described as "Tethered to the mountains by a giant chain."
This could be a reference to the University of North Carolina - Asheville, which is in the "Land of the Sky." Bryan Lee O'Malley's wife Hope Larson grew up in Asheville, though she did not attend UNCA. The two of them lived in Asheville for a few years during the production of the Scott Pilgrim series.