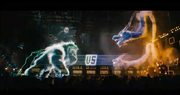 Threshold is a song written by Beck and performed by Sex Bob-omb in Scott Pilgrim vs. the World (film).
History
[
]
The song performed during the amp to amp battle with The Katayanagi Twins at the Ninth Circle. In the battle, after the Katayanagi Twins tear the roof off with the power of their music, Sex Bob-omb plays the song. They get blown back by the twins' snow dragons' breath, but they still continue the song, and summon a Yeti to fight off the snow dragons for them. The yeti defeats the snow dragons causing them to fall into the twins and make them explodes into coins, awarding Sex Bob-omb with 5000 to 6000 points and awarding Scott with an Extra Life.
Music Video
[
]
There is a music video of Sex Bob-omb playing Threshold. The music video shows a full play through of the song with synth and techno noises provided by the The Katayanagi Twins. This version of the song appears on the movie's soundtrack and score alongside an 8-bit version of the song composed by Brian LeBarton
Lyrics
[
]
Scott:
We are Sex Bob-omb and we're here to make you think about death and get sad 'n' stuff!
This is the beginning of this song
Stephen Stills:
I'm hearing voices, animal noises
The crème de la crème, the feminine abyss
And I'm reaching my threshold, staring at the truth 'till I'm blind
My body's stupid, stereo putrid
Spilling out music, into raw sewage
Reaching my threshold, starring at the truth 'till I'm blind
My threshold
My threshold
Reaching
My threshold
I'm hearing voices, animal noises
The crème de la crème, the feminine abyss
And I'm reaching my threshold, staring at the truth 'till I'm blind
My threshold
I'll explode
Reaching my threshold
(My threshold)
My threshold
(My threshold)
My threshold
(I'm reaching)
My threshold
(My threshold)